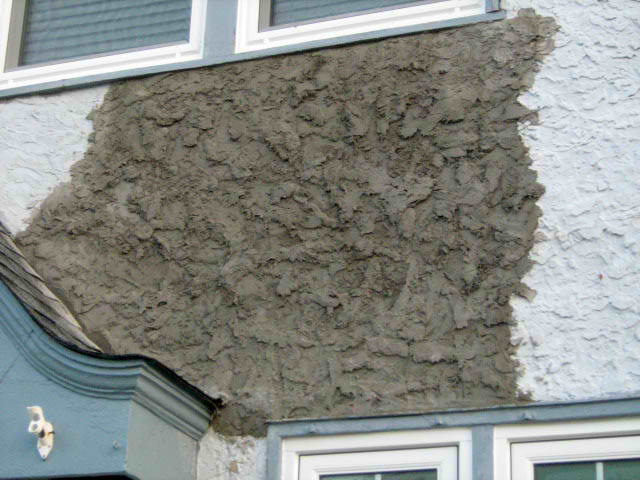 What is Water Infiltration?
Most of the time, when it comes to stucco, water infiltration goes unnoticed until more damage like chipping, cracking, and bubbling occurs. It's important to address these issues as soon as you notice them to first get a professional inspection of the surface and below as well as prevent any further damage from occurring.
Inferior installation such as a bad mix, improper caulking, and installation issues at and around the chimney flashing are the most likely causes of water infiltration.

Chipping and cracking stucco is a good sign that moisture has seeped into and behind the protectant layer of your stucco. It's critical that these issues be addressed as soon as they are noticed.
Cracks in stucco can be remedied regardless of the extent of the
damage.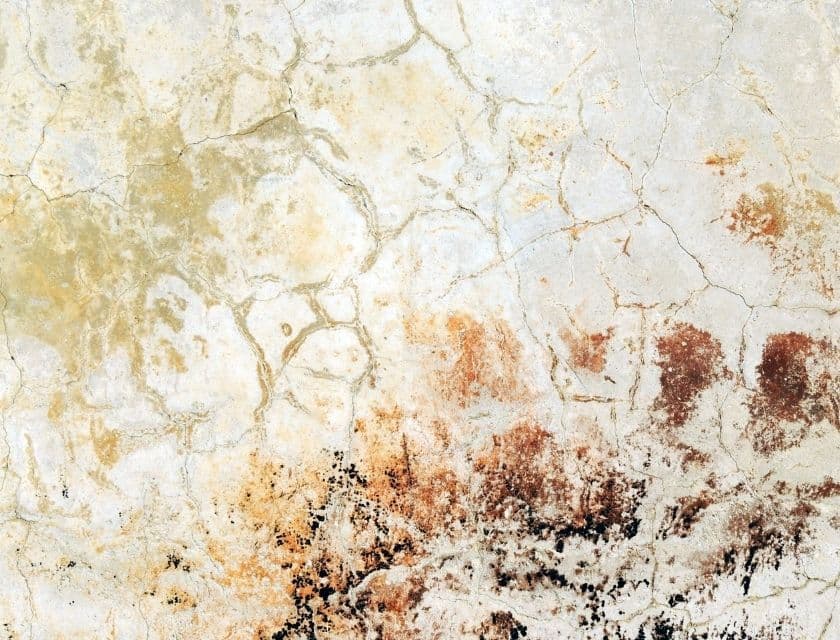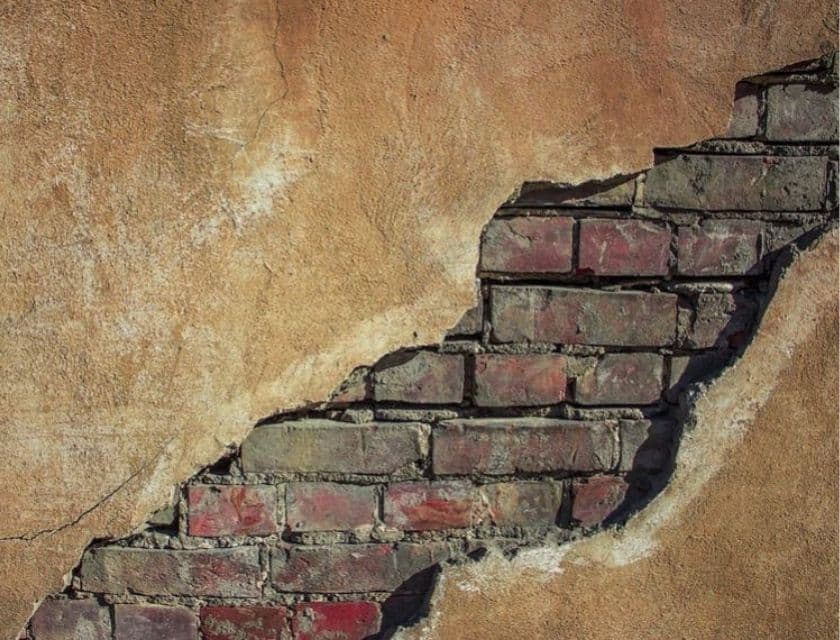 Any time there is a joint in the stucco, proper caulking must be completed in order to ensure the seem is watertight.
This takes place most often around window sills and other openings. These areas are also the most comment places for water infiltration.
That said, the mentioned areas must have a continuous layer of stucco to avoid water damage. Checking the sills and openings on the stucco surfaces is one of the practiced visual inspections that even the average person can do.
If the surface of your stucco appears to be damp, chances are high there has been some level of water infiltration. If the stucco continues to become damp without a period in which it can dry out, the stucco will begin to expand resulting in bubbling. chipping and cracking. This in turn leads to more water infiltration and bigger problems.
With the urgency explained earlier on, it is once again advised to contact a professional to help deal with the stucco problem before it gets out of hand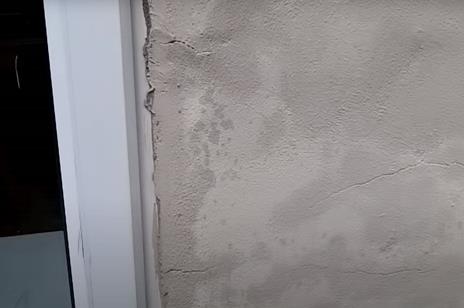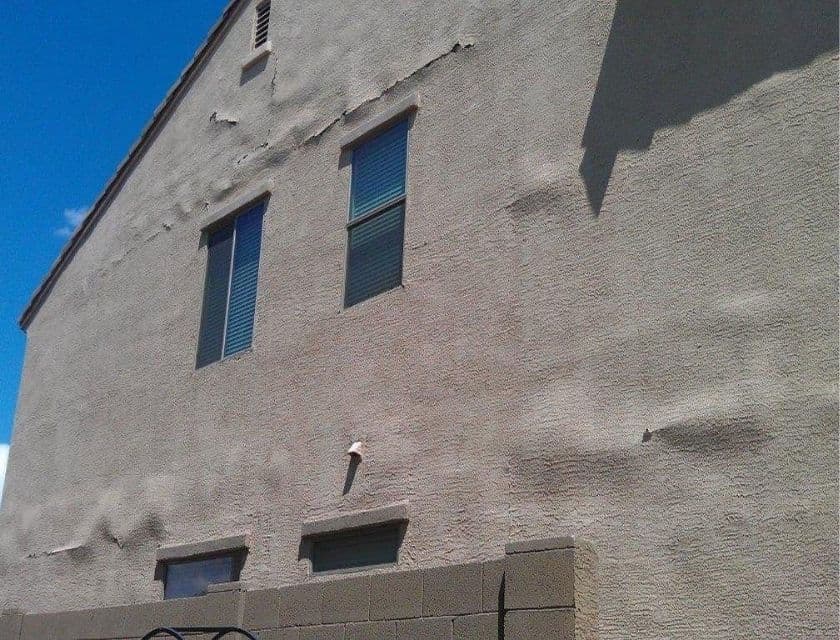 Bubbling stucco is sometimes mistaken as a concern of the paint that overcoats it so be mindful as you read this that the bulge might be a sign of water damage and more problems to come.
Most homeowners do not check their basement as thoroughly as they do any other part of the house. This is a common misconception among the masses that can be rectified by knowing that many house-related issues can be avoided by checking this area of the house.
Being at the undermost level where pipes are often exposed, the
basement is a brewing place for possible water intrusion from pipes
bursting or with the early signs of water damage being ignored.
It is overal prudent to consider the checking the basement whenever house inspections are happening to prevent future mishaps.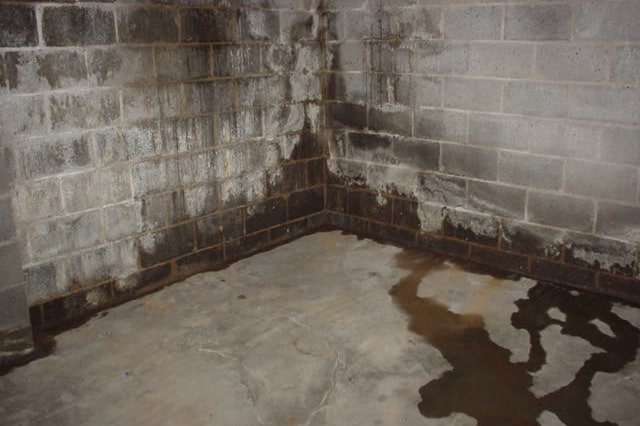 Below are the stucco and related services we offer.
From a quick to an in-depth review of your establishment to see if anything is amiss and would require fixing/replacement.

We accomplish this either through the use of our high-end inspection equipment or the critical eye of our experienced professionals.
Our methods aim for both longevity and safety, applying the latest techniques for the best possible results.

From removing stains to filling up holes, we have the solutions you need for all your stucco problems.
Don't wait until it's too late! Water damage on stucco is notorious for getting out of hand.
Since it's not as noticeable until a good amount of damage is done, it's best to have frequent inspections to make sure that your home is safe from possible cracks and mold – common symptoms of water infiltration.
Unlike most paints in the market, stucco paint is very important in adding extra protection your home/establishment.


Understanding that, we've come prepared with a wide varlety of paints both in color and other practical benefits!
Also known as the "exterior insulation finish system", this is a 'wall-padding'" method that provides efficient insulation without the extra expense.
Our team of professionals are skilled on EIFS construction alongside our group of consultants ready to help you with your exterior finish decisions.
Even the most durable material in building construction can get damaged in time.
Here is where we come in with our experience and know-how on the field and our professionals to help deal with any cement stucco repairs/build.
CEMENT STUCCO REPAIR & CONSTRUCTION
Repair and replacement of stucco is an essential part of maintaining a building's integrity.
Thus, it's important to follow through with corrections as they are advised by the professionals to assure your home/establishment's durability and the safety of the people staying in it.
Why Consider Working With Us?
Having worked over 20 years on the field, we at Jersey Shore stucco, have been perfecting the art of standardized and/or customized stucco finishes.
Available for 24/7 Emergency Assistance
Quick & Easy Communication
Effective & 100% Satisfaction Guarantee
FREE Appraisal with NO Commitment
Cost-Efficient & Reasonable Pricing
Flexible Schedule at Your Convenience
Awesome 5-Star Customer Satisfaction
WE BUILD, REPAIR, AND CREATE WITH SECURITY AND CONFIDENCE!
Jersey Shore Stucco's residential and commercial work is always accomplished with
excellent craftsmanship for beautiful and durable results.